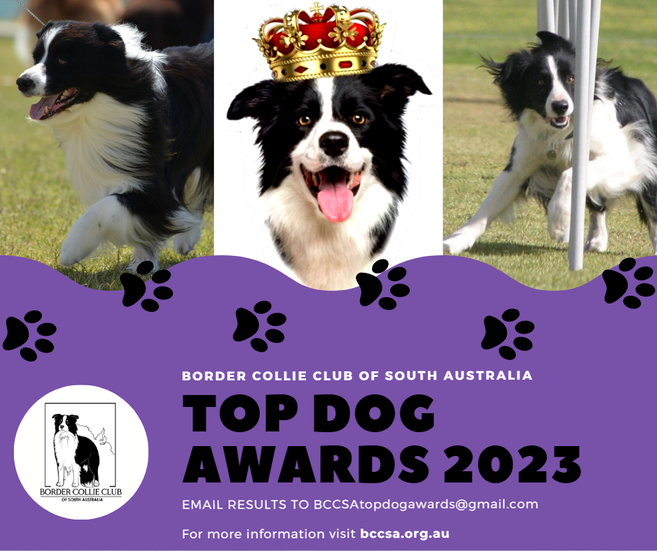 Begins 1st January, 2023
Throughout the year when competing in your respective disciplines you can accumulate points towards the top dog award at the end of the year. If you would like to participate, please email your name, dogs name, date of respective show/trial to BCCSAtopdogawards@gmail.com (please note the change of email address to the original information sent out) with your results so we can keep record of your achievements throughout the year.
We would ask that results are emailed at the very latest by the end of each month to avoid a large backlog of results to enter. At the end of the year there will be an award for the "Top Dog" in each discipline.
Scoring Systems
Obedience/Rally/Agility/Jumping/Games/Tricks/DWD/Tracking/Scent Work
Top Dog Points

Pass - 20 Points
1st Place - 15 Points (Bonus)
2nd Place - 10 Points (Bonus)
3rd Place - 5 Points (Bonus)
Award CardsObedience

UDX, UD, Open Non-Titled, Open, Novice, CCD

Rally

Novice, Advanced, Excellent, Masters

Agility Dog (Agility/Games/Jumping)

AD, JD, GD, SD, SPD, ADX, JDX, GDX, SDX, SPDX, ADM, JDM, GDM, SDM, SPDM, ADO, JDO

Tricks

Starter, Novice, Intermediate, Advanced

Dances With Dogs (Heelwork to Music & Freestyle)

Starter, Novice, Intermediate, Advanced

Tracking

Novice, Excellent, Tracking Champion

Track & SearchNovice, Excellent, Track & Search Champion, Track & Search Grand Champion

​Scent Work

Classes: Novice, Advanced, Excellent, Masters

Elements: Interior, Exterior, Container, Vehicle
Herding
Conformation