Committee
2023/24 Border Collie Club of South Australia Committee Members
President

Matt Fisher
bccsapresident@gmail.com


Vice President

Suzy Skewes

Secretary

Brooke Clark
bordercollieclubsa@gmail.com


​Treasurer

Debbie Clover
bccsatreasurer@gmail.com
Show Secretary
Candice Thompson

Trial Secretary
Linda Murphy

Puppy Liaison

Amy Eatts

bccsapuppyenquiries@gmail.com

​

Merchandise

Veronica Bhakti

​

​

Fundraising

Paul McGregor
Committee Member Bios
Some of our committee members have put together some information about themselves.
​Have a look and find out about the people who are helping run things behind the scenes!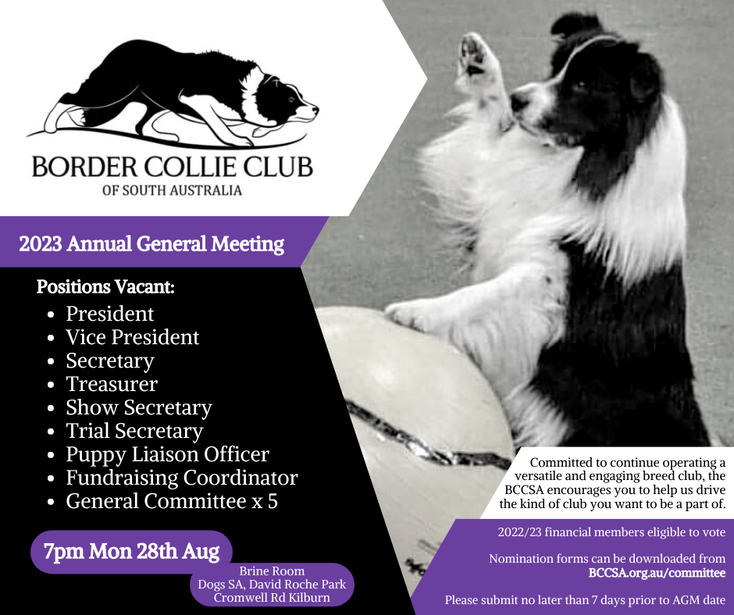 As per our Constitution, nominations shall:
​
a) Be in writing on the prescribed form and signed by the nominee and two other members as proposer and seconder respectively and sent to the Secretary not later than seven days prior to the date of the Annual General Meeting at which the election is to be held; or
b) May be proposed and seconded respectively by two members present at the Annual General Meeting provided that the nominee is either present at the meeting and accepts the nomination or has accepted the nomination in writing and such nomination is tabled at the meeting.

All members of the Committee must be financial members of the BCCSA and become financial members of Dogs SA within 21 days of election.