Secretary
Brooke Clark
---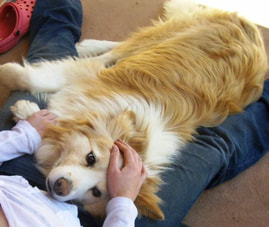 ​
My family had pet German Shepherds throughout my childhood, and when our last had moved on we had a couple of dog-free years that I simply don't like to acknowledge. When I was 11 I bargained with my parents that in exchange for good results at school, I could finally have my own dog. I used to pore through a signed copy of Dr Harry Cooper's 'Pet Care Guide' that I had received at the Royal Adelaide Show, in which he had given various dog breeds a score out of 10. I used to look up my favourite breeds, and used it to decide which would be my least favourite breeds. The Border Collie scored a perfect 10 - I daresay it was his bias towards his own dog Rosie, but it was good enough for me.
​
My Mum called DogsSA to find out if any breeders had puppies available, and on January 12th 2001, we picked up my puppy. I'd had my heart set on a black and white Border Collie but when we went to meet the litter a couple of weeks earlier the red and white one picked me. I didn't even know that colour existed until that day. I subsequently purchased the first book I could find with a picture of a red and white dog in it - Joan Bray's 'Border Collies'. It taught me everything I could have hoped to know at 12 years old, and my breeder Debbie took me under her wing and introduced me to the world of showing. Cougar and I travelled all over Adelaide in the back of Mum's car, picking up Baby Puppy of Breed ribbons for being the only ones in the class and proudly displaying them with absolutely no context for how they were 'won'. We received some very special junior trophies for our teamwork in obedience and agility that I still treasure to this day. I loved that dog with all my heart and he changed my entire family. There are now 9 Borders across my parents, siblings and I, with two sadly no longer with us. We made a lot of friends and learned a lot from some very experienced and knowledgeable Border Collie people as I grew up, who I am now privileged to be working alongside to drive this club forward. As a young teenager I attended a catch up out at Gawler where a few people were trying to get a club off the ground, and now to be part of it happening and seeing so much success is really special.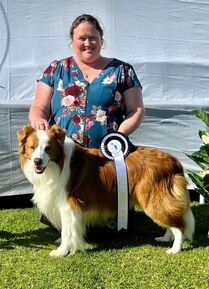 My current dog Mack is also a red and white, they just seem to choose me even when I'm not looking for them. His show career has been remarkably similar to Cougar's - all the best intentions with various reasons for why it never quite took off. As a teenager I had other things to do, and as a mother and business owner I have OTHER other things to do. Mack's jaw was broken at 5 months old in an accident and that put any hopes of a show career on hiatus until he was 7 years old and I just thought 'stuff it' and entered him in the Adelaide Royal. It made a complete mockery of the show scene, we just get in everyone else's way, and we have the best time together. After all, that's why we have our dogs in the first place - to love them. We were honoured (and very excited) to be awarded the Best Colour Other Than Black & White Property Class at our inaugural show in May 2022, because without a single bit of show training we have never expected anything. He's now 11 years old, we did a bit of obedience and agility together for fun over the years and I'm very casually considering another addition in the next couple of years to derail the potential show career of - in the meantime I'm really enjoying being able to contribute to the Border Collie world here in SA by taking on the role of Secretary and liaising with all our members and seeing the great achievements some are having with their dogs and the breed as a whole, and ultimately the great love being shared between everyone and our beautiful breed.
​
I look forward to seeing our club take leaps and bounds as we get bigger and better, with our Specialty Show in May now being complemented by another Championship Show in partnership with the Winter International in June, a Tricks Trial being added to our Obedience and Rally Trials this year followed by Agility being added to our calendar for 2024, and a Herding Come & Try Fun Day for the club hopefully to be held this July I think there's some really positive things that we are able to start offering to our members and I am excited to be able to be part of delivering that to you. Hopefully we can start to drive member engagement and help everyone feel welcome and just as excited about the future as those of us on the committee are!​