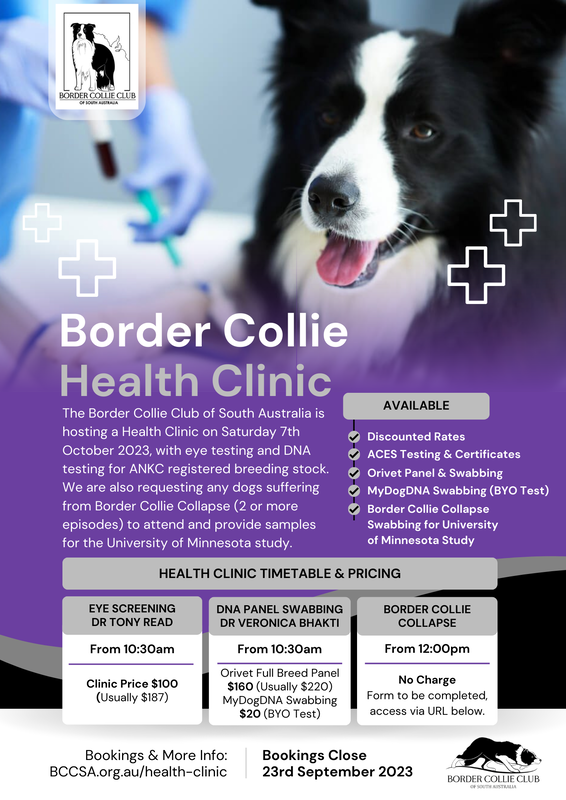 Health Clinic Services
ACES Screening

Dr Tony Read
​The Australian Canine Eye Scheme (ACES) is a national system of examination, certification and data reporting of abnormal eye conditions (both inherited and non- inherited) in all dog breeds, carried out Australia-wide by registered veterinary eye specialists.
Border Collies are screened for Collie Eye Anomaly, Glaucoma, Hereditary Cataract and Primary Lens Luxation.

Eye drops are required to be put in prior to the test by owners/BCCSA committee and pedigrees are to be submitted at the time of booking. ACES certificates will be sent directly to the owner's email address.

DNA Panel Swabbing

Dr Veronica Bhakti

Orivet (Discounted Full Breed Profile) and MyDogDNA (Swabbing Only).

Orivet profile tests can be found

here

.

Please be advised that as per the National Border Collie Council (Australia) the tests for Primary Lens Luxation, Cystinuria, Myotonia Congenita/Hereditaria and Von Willebrands Disease Type II may not yet have been validated for Border Collies so PLL eye screening is recommended.

For MyDogDNA swabbing please order and activate your own test online, unfortunately no discounted testing is available through this clinic.

MyDogDNA tests are listed

here

.

Border Collie Collapse Study

University of Minnesota

Border Collie Collapse (BCC) is an episodic nervous system disorder that is triggered by strenuous exercise. This disorder has also been called exercise induced collapse (EIC), exercise induced hyperthermia, stress seizures and 'the wobbles'. BCCSA are looking to collect DNA swab samples from affected and unaffected dogs at our Health Clinic to be included in this study. If your dog has had 2 or more episodes of collapse, we would like your help as we try to describe the syndrome and search for the genetic cause. Please take the time to fill out the below form and attend the Health Clinic with your affected dog for swabbing.