Choosing A Breeder
This will be one of the most important decisions you will make, and can be guided by your answers in Choosing A Dog



.
Firstly, be aware that a major rise in scammers has been noted during Covid-19. More time at home has brought more people looking for puppies, and the demand has outweighed the supply and opened the door for many backyard or unethical breeders, and some outright scammers. Coupled with the new local council Dogs & Cats Online (DACO) breeder registration there has been confusion about what a 'registered breeder' is, as this was the terminology previously used to describe a breeder registered with a member body of Dogs Australia (formerly ANKC - Australian National Kennel Council). Dogs Australia exists to p
romote excellence in the breeding of pure-bred dogs and is a cornerstone of its reputation. They have a responsibility to take measures to ensure Dogs Australia prefix (kennel name) holders are not responsible for puppy farming or creating major welfare issues. An exam must be undertaken to obtain a Dogs Australia prefix to ensure a minimum standard of education for Dogs Australia breeders.
The DACO registration on the other hand is required for simply anyone who owns a dog that they are or will be breeding from. They list on their website that '
Registration is mandatory for all breeders, however breeder registration does not imply that the breeder meets particular standards or complies with any codes of practice.'
​
We encourage you to purchase your puppy from a DogsSA registered breeder who has done all the appropriate health testing for Border Collies and complies with various Codes and Regulations. This includes hip/elbow scoring and DNA profiling which includes testing for a number of health matters known to exist in the breed and can be viewed
here
. Breeders must provide copies of these results which should be sighted before purchasing your pup. You will also receive a Dogs Australia Certified Pedigree certificate which will list the dogs registered name, date of birth, registration number, microchip number, breeder details, owner details and three generation pedigree (breeding lines). Often a breeder will be listed as a co-owner on a pedigree certificate. Click on the titles below to view samples of each certificate.

​
Main Register
This certificate allows you to breed and show your pup at Dogs Australia sanctioned events (however it does not mean that your pup is of breeding and showing quality).
​
Limited Register
​
This certificate means your pup is of pet quality, and is not for breeding or conformation showing.
However you can absolutely enter your pup in Obedience Trials, Agility Trials, Endurance Tests, etc.
Prior to handing over any money you can check with the governing Dogs Australia body in each state to confirm that your breeder is a financial member. The breeder should give you their membership number if you ask. In South Australia, you can contact DogsSA by phone on (08) 8349 4797 or email info@dogssa.com.au
​
You can also access an instant online Registered Breeder Check midway down on the home page of the Dogs Australia website to determine whether the name or membership number of the breeder you are looking into is registered with them or not. There is a strict set of rules for breeders when choosing prefixes (names) which can often make it easy to tell which are registered and which are not.
Dogs Australia prefixes abide by the following rules:
One (1) word of not less than four (4) letters and no more than twelve (12) letters;
Do not contain numbers, whether in numerals or words;
Do not contain apostrophes, hyphens or punctuation marks of any kind;
Are not identical to or similar in spelling or sound to any other registered prefix;
Do not contain the name of any breed of dog.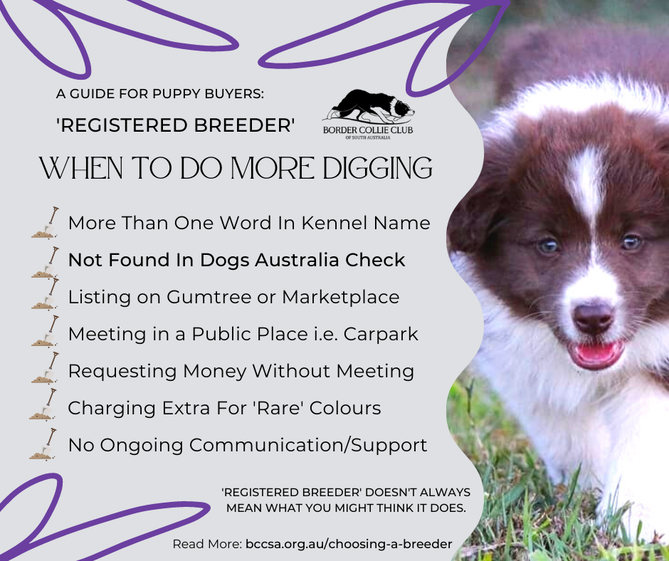 It is highly unlikely that a DogsSA registered breeder will use websites such as Gumtree or Marketplace to advertise their litters. When purchasing your puppy in South Australia, it is our recommendation to never hand over money without meeting the breeder, puppy
at its place of residence
and its mother. A major red flag is being asked to meet in a public place such as a carpark.
As previously mentioned, the father may live elsewhere. If buying a puppy from interstate, please be cautious if extra money is asked to cover travel insurance or if the price seems exorbitant. Currently, most breeders sell puppies between $2,500-3,500 but there may be a slight variation to this price between some breeders/states.
As all colours of Border Collie are permissible for Dogs Australia registration, colours are generally no longer rare so be aware of excessive prices, all puppies cost the same to raise regardless of colour
. A reputable breeder will provide ongoing support and be your first point of contact with any issues, questions or in the sad occasion you need to rehome your dog, they will usually be willing to take the dog back and find a suitable home. After all, nobody knows better than they what kind of home will be most suitable for their puppies. Finding the right breeder can be the beginning of a lifelong friendship, as while you search for the perfect breeder and puppy, the investment they make in developing their lines and raising their puppies means they are also looking for the perfect forever home and they love to be updated and see their dogs living their best lives.
Attending shows can be a great starting place to meet breeders who will generally be happy to talk about their dogs and discuss what you are looking for.
Dogzonline
also has an extensive list of Dogs Australia registered breeders with information and contact details, and we encourage you to include this in your research. The Border Collie Club can also provide information and guidance as well as listings from our member breeders of available litters. We welcome you to join our club and encourage you to ask questions and get involved in club activities.