President
Matt Fisher
---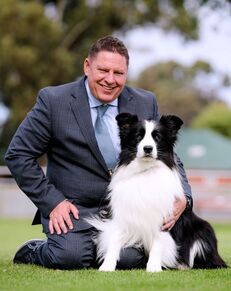 ​I have been involved with the breed now for over thirty years and probably like a lot of people my first border collie although a pure breed was not a main registered dog. In actual fact he was our Pet Shop Boy – Bosco. He was an amazing obedience dog that will always hold a special place in my heart. He was my first and only to date, Obedience champion titled dog.
Our first step into the world of pedigree border collies was through Lyn Harrison with a beautiful girl called Tullacrest Olympic flame CDX (Sharni). Another obedience dog.

Through work we moved to Sydney for a while and continued with dog obedience with both Sharni and Bosco. Along the way we met Lauren Somers of Nahrof Border Collies and decided this was where we were going to purchase our next obedience dog from. That dog turned out to be Jackson (Sup Ch Nahrof Find the Words CD), although probably my best trained obedience dog it wasn't his passion. He loved the show ring. We have had some amazing times with him including, in show wins and a best in group / third in show win at the 2016 Adelaide royal. He is now enjoying a well-earned retirement.

We are still heavily involved with showing and can be found down around ring five most weekends with all of our other tent buddies. Although we don't have a prefix of our own we are honoured to be included in the Nahrof Border Collie breeding program which has produced two of our most recent dogs in Titan (Sup Ch Nahrof Icebreaker) and Zali (Ch Nahrof Stolen Liberty). Currently we have five border collies at our place, Jackson the old man now at 14 years old, Chilly who is nine, Winter who is six, Titan who is five and Zali at just over a year old.

My desire for the club long term is to be all inclusive and expand our membership to encompass those that have a passion for dog sports that Border Collies excel at like herding, Rally, Agility, Tricks and obedience. I am really excited about our clubs future and feel very honoured to have been given this opportunity.