Choosing a Border Collie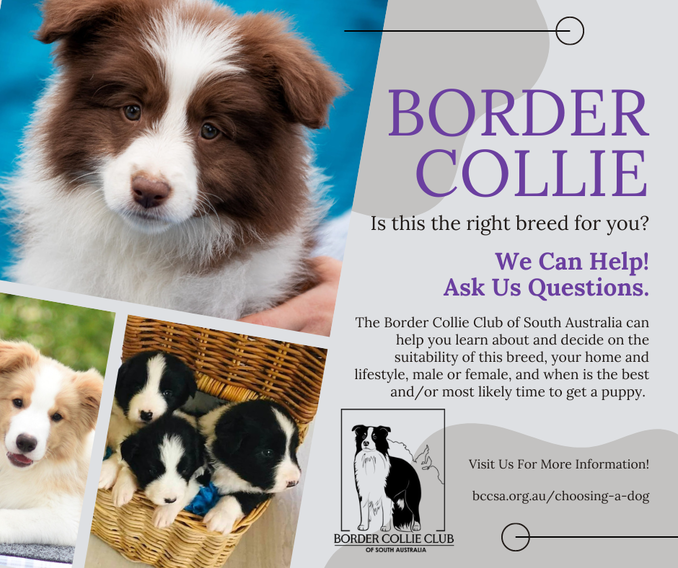 Is a Border Collie right for you? What do you need to know to make the best decision?
There are a few things to consider when you are thinking about adding a new member to the household.
1. Research, Research, Research.
Do your homework. Learn as much as you can about the breed - visit websites, talk to owners, attend dog shows or trials, and contact breed clubs such as us.
​
2. Know What You Want
What would you like your ideal dog to be? Some people are looking for a high drive, strong willed working dog for their sheep or cattle. This will likely be a dog with different characteristics to the dog destined for an indoor life alongside a young family. Identifying the lifestyle you have planned for your dog will help direct your decisions about suitable breeders, and what characteristics you will be looking for when you are selecting a pup. Breeders have carefully researched, selected and nurtured their particular lines for generations and will be able to tell you what you can expect from their dogs.

3. Is Your Home and Lifestyle Suitable?
Whilst most pups are bought to be pets, as mentioned above there are other purposes for which people choose this breed. For the pet dog, there needs to be adequate space in a safe and secure area, as well as adequate time to devote to the physical and mental wellbeing of your dog. This may include but is not limited to obedience or agility classes, games, trick training, daily walks, even spending time together laying on the lounge. Border Collies have lived close to their masters for generations, and their greatest need is to be with others. Owning any dog is a commitment - owning a Border Collie will require you to follow through on that commitment, because they are known to take matters into their own hands if left to their own devices.

4.

A Dog or a Bitch?

There is no difference in the intelligence or trainability of either sex. Each dog will develop its own individual characteristics based on a combination of genetic inheritance, the environment in which they were initially raised, and the environment they are in with you. Generally speaking the males are slightly bigger, slightly heavier and have longer coats. Females are smaller, lighter and have shorter coats. Females come into season every six months for around three weeks unless desexed. Males are often regarded as more cuddly (read: big sooks) but can be more dominant, while females can be more independent, however both are extremely loyal, attentive and affectionate. Take note of the parents of the litter, bearing in mind the male may not live with the breeder (they should still be able to give you information and photographs). How big are they, how do they relate to their owner and visitors, are they the sort of dog that you are looking for?

5. When Should I Get A Puppy?

Litters can be produced at any time of year however breeders often prefer to raise them in the warmer months. A Christmas puppy sounds wonderful however it will not always be possible, and many breeders have waiting lists. Do your research, get in contact, and your breeder will keep you updated on when you can potentially expect a puppy.